It has been a particularly challenging time for the hospitality and tourism sector, and sadly the battle for many is far from over. Many well established restaurants, bars, wineries, cellar doors and venues have been forced to close throughout COVID-19, with an urgency to transform your business operations overnight and adapt to survive. A new approach is required – leveraging all the marketing tools at your disposal to allow your business to remain viable and actually thrive over the long-term. Here are four ways to think about how you can use some marketing principles to help your business thrive, or just survive post COVID-19.
Solve a customer problem
We're in unchartered territory that's for sure. Consumer behaviour has changed overnight and there continues to be uncertainty in consumer confidence as many of your customers will struggle to adapt to a new normal. Regardless of the challenges faced though, we've seen many hospitality venues be incredibly nimble, reinventing themselves to ensure long-term viability. Many clearly have had the consumer at the heart of their plans, and have transformed quickly to offer new products and services.
The first thing that you need to do here is stop and truly think about your customers. We often brainstorm customer needs, challenges and actually think about some of your most valuable customers who come in often, naming them and trying to put yourselves in their shoes for a moment. Redefine your customer personas and think about what your offering now needs to look like to help solve their needs.
Hospitality.net noted that "Overall, middle class consumers are becoming more value conscious, while luxury consumers are becoming more discerning as they really want to make their travel choices count when it's safe to travel again. After COVID-19 subsides, many consumers plan to make up for lost time by not only taking trips but potentially indulging to a greater extent in rich experiences." There's opportunities here if you repackage what you are doing, what expertise you have at your finger tips and reshape this (potentially more profitably) to meet the customer needs.
There's been some insightful research released by McKinsey and Co, Nielsen and Accenture that continue to provide thoughts into how the consumer's behavior has changed. This data continues to evolve as we see consumers evolve with the ever changing landscape. This means rethinking what you are doing to remain relevant. It could involve:
Changing the tone of your communications
Innovating and thinking about new ways of doing business
Looking for collaborations to tell your story to a different audience
Evaluating different routes to market
Rethinking how you use your physical space
Bringing products to customers in different formats to what you've offered in the past.
Don't neglect the aspect of safety though. This needs to be at the forefront of your consumer communications and staff training. Consumers are often looking for validation of their concerns around safety, so don't be afraid to articulate just what measures you are putting in place to look after your guests. And stick to them unapologetically, not just because of financial consequences if you don't comply but because it is what your customers value!
Research from Datassential noted that "Coronavirus has led to nearly 60% of consumers being concerned about eating out, with one-in five "definitely" avoiding doing so." Venues need to be open and transparent about what you are doing to ensure customer safety. It's worth taking five minutes to read this Datassential report to understand just how prevalent this concern is. These insights don't just extend to your physical space – don't neglect elements like menus, shared utilities etc and think about how you can do things differently to maintain hygiene practices without hindering the consumer experience.
Restaurant and Catering Association has some great resources on hand to help with best practices, training and links to relevant health alerts that's worth referencing if needed.
For some venues these consumer insights might mean rethinking the format that you deliver your service offering to the customer. We've seen some of the wineries offer the Tasting at Home packs such as those which our client Scarborough Wine Co introduced. This format has now translated into new tasting experiences which have met with rave reviews and a much more profitable margin. Equally Time Out Sydney highlighted some of the best innovations in take away and home dining that occurred that might offer some ongoing inspiration. We particularly enjoyed our three course fine dining from Banksii which came beautifully packed and was an exceptional fine dining experience that we'll continue to rave about long after the actual meal.
There's so many inspiring stories of venues and brands who are reinventing themselves thinking about their offerings differently. Take a read of some of the case studies like this one of small producers in Hospitality Magazine.
Don't go dormant with your communications
Maintaining a dialogue with your valued customers is critical. It means that you'll keep top of mind and in many cases continue to grow the awareness of what you stand for. This is where social media can play a pivotal role to help keep your brand presence. Whatever the form of communication that you have at your disposable, think about how you can utilise email, social, messenger or old fashioned local marketing to get your word out and stand out from the crowd.
Bars like Fix St James in Sydney have been a great example, transparent about what they have been doing to adapt and for customers to continue to interact with their business. But it's not always about a direct sale. There's an opportunity here to educate, inspire or entertain. Many leading chefs across the world have used the downtime to provide cooking classes and demonstrations which have kept them top of mind. Stories of large clubs utilising their staff on Job Keeper to call members and check in on elderly members of the community to see where they can mobilise assistance also were most inspiring! We've also seen a number of the Mastermind Client's adopt entertaining options online like live interactive wine tastings, trivia sessions and the role of the blog on your website to provide longer form content has never been more widely utilised.
For many of the businesses email will play a more critical role than ever. It has been the tool that for many of our clients has driven remarkable sales in these challenging times. Segment and personalise, ensure that the emails are mobile responsive, are offering value to your tribe and plan out your communications. Remember that you may need to adapt your tone and messaging at this time to stay up to date with consumer expectations.
Don't underestimate the value of telling a visual story either. Good photography can be utilised across your website, social media and in email communications. There's often a saying that consumers can shop with their eyes and this. Remember though that there is a need to be respecting social distancing so it may mean that you need to audit some of your previous digital assets and decide which ones are appropriate to use.
Leverage integrated marketing tools
Now more than ever it's the time to use the marketing tools at your disposal to grow the awareness of your venue. There's no one tool that dominates, it's often how you integrate these elements more broadly that will help grow your online presence. Take a look at your google analytics and have a look at the multi-channel conversions and you'll often discover how different mediums are playing their role in converting.
Some key considerations:
Evaluate local marketing – is there a niche group of loyal customers who you can do a special offer in a letter box drop or specific offer?
Customer service tools on your website like Pure Chat are a way of instantaneously answering customer questions and helping with conversions. Download the app to your phone and share the workload amongst a few of your team to help be nimble in your approach.
Update your website and social media profiles – ensuring that your operating hours are current and that consumers know when they can contact you. If you are open for take away make sure that this is prominent and make it easy for people to view the menu and book.
You need to be thinking about digital first given that a greater proportion of sales will happen online. Whilst bricks and mortar is still critical the online journey often begins online and consumers are behaving differently.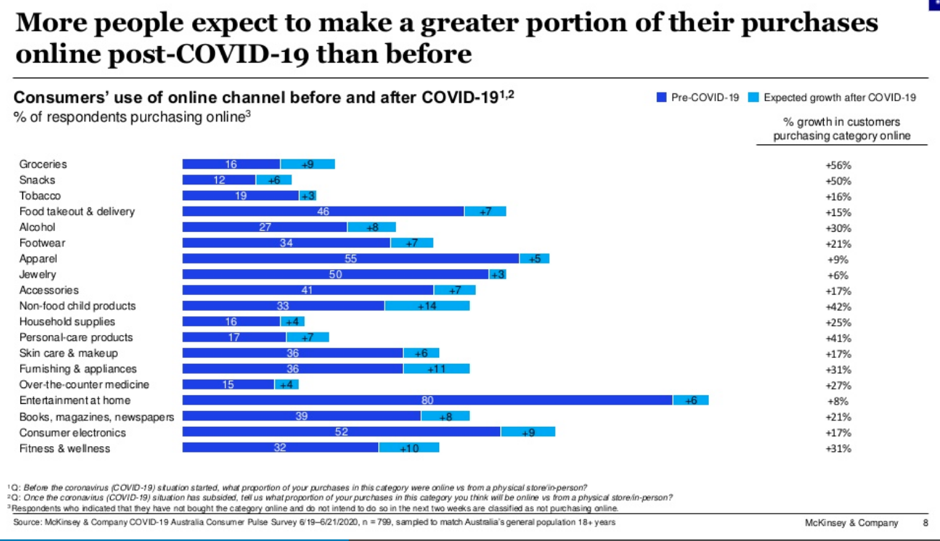 Image source: McKinsey & Company
Test, monitor and be agile
The plans for 2020 have gone out the window and are constantly being re-written. But the good news is that especially in the digital space there are many cost effective tools to allow you to monitor, test and refine what you are doing quickly. Regularly look at your google analytics data, set up goals and key tracking metrics to allow you to evaluate what is working best. There are ways to set up Google Analytics dashboards quickly to measure key information and have this automatically send to your email.
Continue to use tools like Google Trends to monitor key metrics and trends – you'll see an example below of just what an impact home delivery has had over the last few months. Whilst it's certainly declined from the March/ April spikes, this trend is continuing.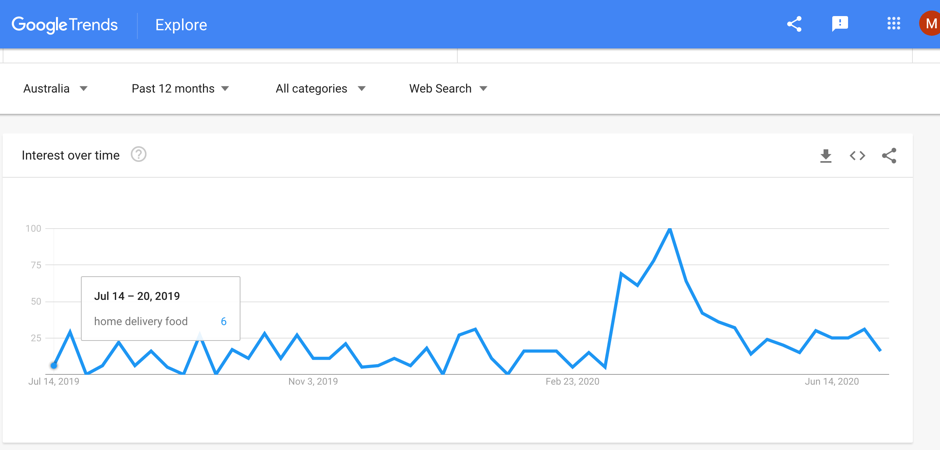 Even when budgets are stretched there's an opportunity to utilise paid advertising to be very focused in your marketing. Advertising Expert Mark Ritson shared a great case study on brands that marketed their way out of recessions and what the long term benefits were that's worth considering in your approach. You don't need to spend a fortune but amplifying what you are doing to a specific group has been a key success factor for many brands that we've worked with over the last few months. Test and refine your messages and then when you work out what is most effective further amplify this, and we don't mean just using the "boost post" functionality on facebook!
Over the last few months we've seen some phenomenal results through paid facebook and instagram advertising when targeted appropriately. Social Media Today highlighted some of the benefits of facebook advertising throughout COVID-19 highlighting the reduction in competition and results that were being seen. According to SocialBakers, brands across all regions have consistently posted fewer pieces of paid content in 2020. Not all of this can be attributed to COVID-19, but as the trend continues it has become clear that some of it is related to the tightening of budgets.
As a result, organic posts have increased slightly across all regions since the start of the year. This trend is expected to continue as businesses look for less costly alternatives to engage their audiences. That means that organic strategies driven by the right content may win during this period.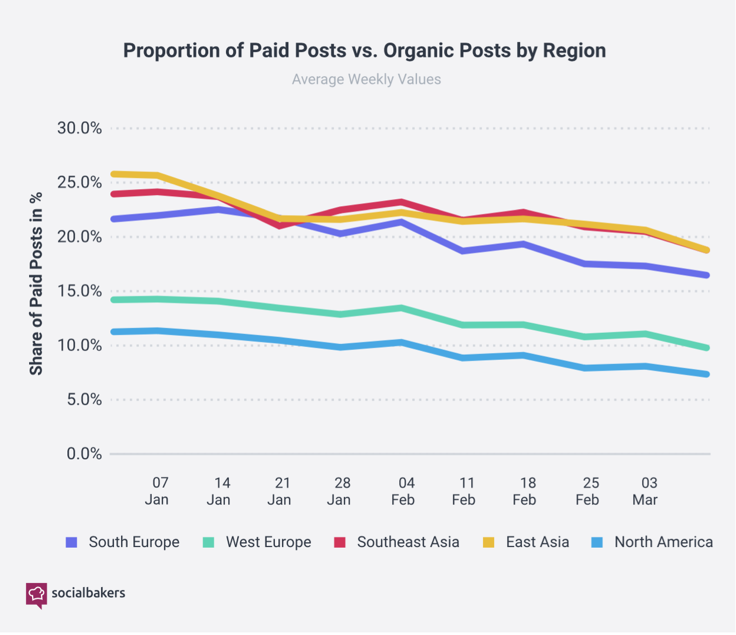 Some ways you can extend the reach of your messages include:
Looking at the times that your posting – making sure that you increase the organic reach of your content where possible so that customers can discover you when they are online.
Tweaking content to cater for the different platforms. The demographic groups consuming your content are often slightly different and you need to think about how you can leverage the preferred channels of communication strategically to connect.
Load up your email marketing list into facebook Business Manager and create a lookalike audience – if you have a valuable customer list this also is a useful way of reaching new customers
Ensure that you have automated emails in place or cart abandonment emails to help drive traffic back to your site
Re-market to those customers who have visited you recently with a special offer
Set up auto-responders on facebook to help answer common questions or help manage bookings
Test the cost per conversion on different social media channels using google analytics and goal tracking to help understand where your spend is most effective.
A/B Test your emails – test out different content blocks or subject lines to increase the open and click through rates.
We share our thoughts on resetting the plans for 2020 on our blog and know it's not easy. Melissa Goddard our Social Media Manager also shares her top tips for hospitality venues to leverage marketing tools to grow which is worth a read. If you are still hungry for information, we dig a little deeper in a Wine Australia webinar that also gives some perspective on how to market through a crisis. This one you'll need to grab a cup of tea (Australian grown Nerada of course!) and take an hour to digest the findings.
Remember to be kind to yourself, look after those close to you and reach out if you need some marketing help.