One of the first questions we're often asked by our clients is "How do I get more Instagram followers?". While some patience is required, incrementally growing your social media following is possible – you just have to know what to do! We share our top five tips to increase your Instagram followers.
1. Post consistently
When it comes to growing on Instagram, posting consistently is key. By posting regularly you remain engaged with your followers, while potentially reach new accounts via hashtags, Instagram suggesting your content to non-followers or your content appearing on the Instagram explore page.
Later recently analysed over 81 million Instagram feed posts (excluding Reels) to discover how posting frequency impacts average reach and engagement rates. One of the key takeaways was that accounts that post more frequently typically have more followers. However, you must consider if the quality of content that you share delivers real value for your audience, therefore it's always quality over quantity.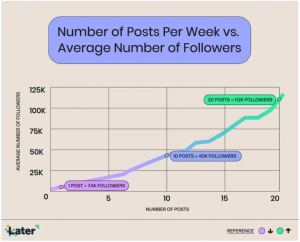 Image Credit:Later 
We understand that it can be difficult to commit to posting regularly when you're juggling content creation, alongside other business duties. For a simple solution, you can use a scheduling tool such as Facebook's very own Meta Business Suite (this allows you to schedule in content ahead of time for both Instagram and Facebook). It's free to use and you can easily schedule in your images, videos and carousel posts. By planning and scheduling your Instagram posts in advance, you can deliver content even when you're super busy. It's a real time-saver!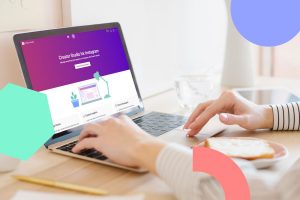 Image Credit: Later
To plan your content, we suggest that you identify what your content pillars are to ensure you have a good mix of content appearing on your feed. This will stop you from sounding repetitive and will allow you to reach a diverse range of audiences. For example, if you're a winery, you don't just want to talk about your new releases, you need to think about the stories that focus on your people and history as well as consider tourism, events, wine knowledge, etc.
By remaining active on the platform, you must consider the variety of content you are sharing – whether it's daily Instagram Stories, weekly Reels, a few feed posts a week, or a mixture of all three. Developing a content plan in advance will assist with this. Your plan should include the date and time of posting,  what you would like to say (the copy), along with any links and the creative you wish to share. This will give you a good overview of the week, fortnight, or month ahead and will ensure that you're sharing a good mixture of content.
If you would like help in creating your brand's content pillars or developing a content plan, get in contact with us – we are more than happy to help.
2. Create Instagram Reels
If you're unfamiliar with Reels, they are a creative and engaging short-form video. If you're not sharing Instagram Reels yet, you could be missing out on a huge opportunity to grow your follower count. Instagram Reels are often favoured by the Instagram algorithm and are the main form of content Instagram promotes via their explore page and suggested posts, which means you can reach lots of new people.
View this post on Instagram
Image Credit: Instagram
There are plenty of ways to use Instagram Reels for your business, from tips and tricks, how-to videos, behind-the-scenes content, and more. For best results, use keywords and hashtags in your captions, use trending audio, keep your Reels short and punchy to encourage repeat views, add on-screen text for viewers watching without sound and aim for high-quality video footage.
3. Partner with like-minded brands and content creators
The success of collaborating with others can be huge. Whether you're keen to pursue influencer marketing, encourage user generated content, or partner with another business – there are many ways you can grow your followers from leveraging other users' accounts.
Teaming up with like-minded brands will introduce your profile to a new and engaged audience. The easiest form of collaboration is running a competition across both accounts. Just make sure you set clear entry requirements that support your growth goals, such as tagging a friend in the comments, sharing to Instagram Stories, and following your account.
View this post on Instagram
The premise of running a competition with a like-minded brand can also be used when considering working with influencers. Using the same principles, you could run a competition across both channels, and therefore engage new users and bolster your following on Instagram.
Alternatively, sending influencers product in return for a shoutout on their channels is also a great way to tap into a new pool of potential followers. Partnerships don't need to break the bank, so explore reaching out to micro and nano influencers who are keen to work on a contra partnership rather than paid. Also, keep in mind, nano and micro influencers usually have a higher engagement rate than macro influencers.
View this post on Instagram
Finally, why not leverage your existing customer database and tap into their Instagram accounts? Encourage them to share content of themselves at your venue or enjoying your product and have them tag your page on their own Instagram page. Running a monthly giveaway of free product to the best piece of user generated content is a clever way to ensure you are seeing higher quality content that can be repurposed onto your own channels (just be sure to credit the appropriate Instagrammer in the caption).
Learn more about the power of user generated content marketing.
If you're new to influencer marketing or brand collaborations, Mastermind Consulting can assist you.
4. Engage with Your Online Community
Community management is essential on all social media channels, particularly Instagram. As you engage, the relationship with your community will grow stronger. Further to this, you should also be looking to engage with other like-minded accounts and comment on their content. This will help solidify authentic relationships within the Instagram community and encourage resharing of your content onto their own channels, thereby recommending you to those who follow them.
How often should you check your social media accounts? We recommend that you check and answer your Instagram comments and direct messages at least once a day (ideally 3-4 times a day). You want to ensure that you are across any negative commentary or questions in regard to opening hours. You can set up an auto-response in Instagram to manage the expectations of those messaging you via direct messages, outlining when they can expect a response.
Depending on how active your Instagram community is, and how tenacious you are in reaching out to other accounts, you ideally want to allow a couple of hours a day. If you feel like this is not sustainable, we offer community management services to assist you in keeping your online community engaged.
5. Promote your account on your owned channels
If you're looking for additional ways to grow your Instagram following, cross-promoting your account on your other owned media channels is a great place to start. This includes promoting your Instagram account on your website (either in the footer or header), including a link in your email send outs, driving traffic from your Facebook and LinkedIn profiles and ensuring you include a link in the description if you're utilising YouTube.
With all this in mind, you should now be ready to go and build your Instagram tribe. Just remember, as you grow, ensure you continue to nurture the relationships with your current followers to help strengthen brand trust and loyalty, and welcome your new followers with open arms!
For extra assistance, feel free to contact us.
Want to learn more?
Click here to learn about Shiraz Day one of the most important dates on the wine calendar
Click here to learn about spinning cone technology making alcohol-removed wine possible