User generated content (UGC) is a new marketing frontier for brands as it is an important way of gauging and informing how your brand is perceived in market. Brands are more than just a collection of products or services. They're created to deliver value to consumers, and your brand is ultimately defined by how your customers perceive you. Social proof has always been an important part of every marketing strategy and in the wake of the Covid downturn, it is particularly crucial now more than ever as Australia starts to reopen for business.
Why User Generated Content is part of an effective marketing strategy
When shopping online, consumers can't physically see, touch or experience the items or services before purchase, making written and visual social proof vital. This makes UGC one of the most trusted, authentic and relevant brand experiences as it validates your brand. According to a survey conducted by Stackla, 79% of people said that social proof, such as UGC, highly impacted their purchasing decisions. This demonstrates how the content disseminated by others about your brand plays a vital role in your marketing strategy, and it is therefore essential that if you are not currently encouraging UGC, now is the time to start.
What is User Generated Content?
User generated content is any content – be it testimonials, video, images or reviews – that is created by consumers about a brand, rather than the brand itself. There are many different types of UGC marketers can cost-effectively leverage. These include:
VISUAL UGC – Arguably the most popular and powerful form of UGC today is visual content. The billions of photos, videos, Boomerangs, Reels and Stories that people post on social channels daily are some of the most trusted and influential forms of content to consumers.
Organic and paid social media is a key element of any successful marketing strategy, particularly now that social media consumption is at an all-time high. Yet, competition for scroll-happy consumers' attention has also never been higher. Visual UGC can act as the compelling social proof needed to help your social ads and posts stand out from the crowd. In fact, the use of UGC in social ads has been proven to increase click-through rates by up to 300% (Stackla, 2019).
RATINGS, REVIEWS & TESTIMONIALS – Online ratings and reviews have emerged as an important form of social proof, popularised by widely used consumer sites such as Google Reviews, Amazon and Tripadvisor. According to Stackla, 56% of consumers rely on reviews to make informed, online purchase decisions.
BEHIND THE SCENES – Offering a peak behind the scenes can be a valuable way to connect with customers while engaging your employees. Encourage your staff to share what it's like to work for your brand or their expertise. For example, many of Dan Murphy's staff members have their own accounts where they share new releases and wine knowledge with their followers that can then be repurposed by Dan Murphy's main channel.
This has the dual effect of educating and informing consumers as well as building your brand's personality by shining a spotlight on the faces behind your business.
What are the benefits of User Generated Content
Quite simply, UGC sells. Figures from Nielson show that 92% of consumers trust earned media more than owned media, while Forbes https://www.forbes.com/#e78ad962254c reported that 81% of purchase decisions are peer influenced. These statistics alone, highlight the relevance and necessity for UGC.
User generated content is integral for promoting your brand authenticity. Hootsuite reports that consumers are twice more likely to view UGC as authentic compared to content created by brands. This means they are much more likely to genuinely engage with the content. For example, when you look at Bonds' Instagram account, you'll notice that there is a clear distinction between what has high engagement and what has low engagement. Below are two posts – one is a studio photo and the other a regrammed UGC post. The UGC photo from @wellness_madz received 947 likes, while the studio shot received 678 likes. That's close to 40% more likes for the UGC post compared to the brand-created content.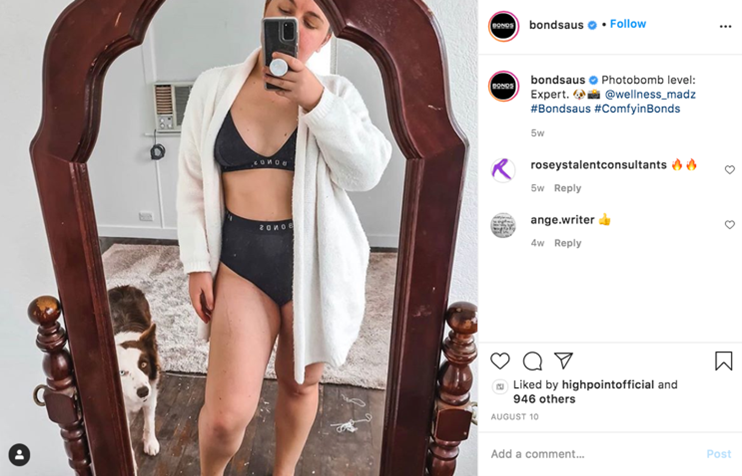 Not only does UGC build brand authenticity, it also builds trust. Burt's Bees shares customer testimonials about their products along with UGC on Instagram. This helps to boost followers' trust in the products and the brand.
All of these aforementioned benefits of UGC really lead up to this heavy hitter: the impact on purchasing decisions. According to Stackla, 87% of consumers said social media posts helped them decide what to buy. If you're not incorporating user-generated content marketing, you're missing out on a powerful tool that can lead directly to increased sales.
How to Encourage User Generated Content
Camera phones and social media have made it easier than ever for people to capture and share brand moments and product experiences. So, how do you encourage your audience and customers to snap, share and tag?
Competitions, contests or challenges are some of the most effective ways to generate quality UGC from your audiences. It's important to make sure the content you're asking for is aligned with the type of visuals your brand needs, and a little incentive can go a long way towards prompting higher quality content from your audiences.
If you already have a large social media following, you can encourage users to share and tag your brand and in return you will give them exposure on your channels. There are many budding social media users who are looking to grow their own reach, and this is a great way for a mutual benefit transaction.
For destinations such as restaurants, bars, wineries and hotels, consider adding an installation such as a photo spot or some signage to encourage patrons to take photos at your venue and to share on social media or leave a review.
Consider including a postcard in orders that are sent out to customers that encourages them to share a photo or their experience with your brand and products. Make sure to include your social handles and any hashtags.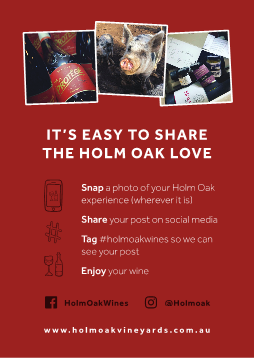 There are so many ways to encourage UGC, with and without incentives. The key is that you need to prompt your customers. And don't do it once. How to continually invite your customers to share content about your brand should be an important consideration in your marketing messaging.
How to Repurpose User Generated Content
Now you know how to generate UGC, but how can you repurpose it?
Besides, the obvious method of resharing your customer's UGC on your own social media channels, you can use the content (with their permission) on your website. Since your brand's online homepage now acts as a digital storefront, UGC can help you make a good first impression. By prominently showcasing authentic customer content on your main webpage, you can build trust, inspire site visitors and drive conversions. This is particularly true if you make your visual UGC shoppable, connecting content to commerce by shortening the path to purchase for visitors.
UGC is not only effective on your homepage, but also on your individual product pages. Supplement your professional product and service images with real customer photos that show an unvarnished view of what you're offering. According to Stackla, data shows that customers are six times more likely to purchase a product if the page includes pictures from social media.
During COVID-19, email has re-emerged as one of the most effective channels to reach consumers and therefore drive website traffic. Incorporating UGC into transactional and promotional emails can help build community, strengthen customer loyalty, reduce shopping cart abandonment and increase conversion rates. Brands have seen an 8% increase in email click-through rates when they feature UGC (Stackla, 2019).
UGC can be just as effective in print promotions as it is in digital marketing. Looking for a way to bring social proof into your printed catalogues, brochures or newsletters? Need new visuals to help your next direct mail campaign feel more personal and compelling? Try substituting generic stock imagery and professional photography with authentic customer content.
There are a multitude of ways you can repurpose UGC, but it's essential that you do so ethically. Always ask permission to reshare and credit the person who created the content.
User Generated Content: The Verdict
User generated content is an essential part of the marketing pie to build brand authenticity, trust, engagement, awareness, reach and community. These metrics are always important to marketers and brands as this inevitably drives traffic to your website or people to your venue and ultimately conversions.
If you're not currently encouraging UGC, it is important to make it part of your strategy as soon as possible. Start small by putting a call out on your socials and give users a hashtag they can use so you can track the content. Want to go bigger, but not sure how? We can help! Feel free to contact us and we'll be happy to give you some guidance.