Restaurants, pubs and bars can no longer rely on good food and service to drive foot traffic. As a business owner or manager, you need to address the key issues of how your local community will know you have re-opened and how you can attract people to your establishment. Whilst COVID-19 has changed the way that we can service our customers, the digital landscape presents opportunities – think of it as an online extension of your brand that can help attract new customers and continue to tell your stories.
With most of the world going digital and in some instances customers unable to physically visit, it's never been more timely to revisit the role of your digital ecosystem. We've put together a list of five ways you can improve your venues digital footprint and ultimately drive awareness for your establishment.
Make your website the heart of your online brand!
Your venue is no longer the storefront of your business – your website is. Whilst many in the hospitality community often have just a Facebook page as a way of reaching out to customers with offers and promotions, having an up date website with great information regularly updated is essential. The majority of Australian's who are looking for a restaurant, pub or bar will seek you out online before committing to visiting you and if you're website isn't user-friendly or you don't have a strong digital presence the odds are they will find a place who does.
The best way to ensure you have a functional website is to test it out yourself as if you were a potential patron, and ask yourself:
Is it simple to navigate?
How does it look on a mobile device?
Is the content on the website still relevant?
How long does it take for a page to load?
Can I find the menu quickly?
How easy is it to find the address and contact details? Are these up to date with revised operating hours?
Is it a simple process to book a table online?
Will potential customers easily discover special deals and future events?
Are users prompted to sign up to our email database when they visit the website?
Your website should be professional, polished and represent the look and feel of your venue. It's also important to remember that most people use their smartphone to research where they would like to eat or have a drink, so your website must be optimised for mobile devices. Check your mobile score here! It's also worth investing in professional photos of your space, food offering, beverages and key staff and personnel behind the brand. It gives potential customers a sense of intimacy and familiarity of your venue before they visit.
The Royal in Leichhardt, NSW is a great example of a user-friendly website with an easy to navigate menu, beautiful photography that elicits the feel of the venue and a special section on the website dedicated to their health and safety measures in light of COVID-19.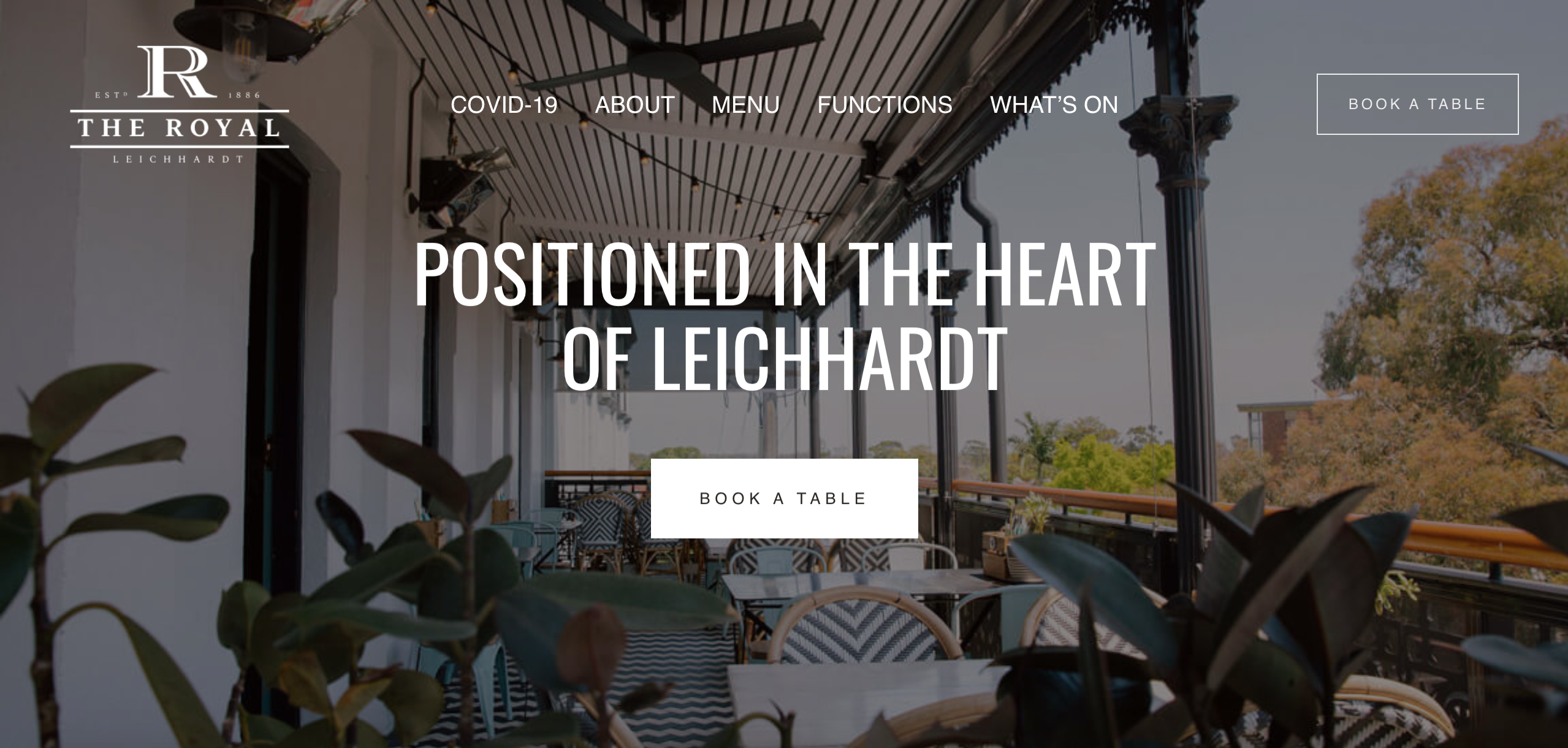 Simple changes that enhance the user experience is a great first step to improving your first impressions with new patrons, whilst locals and regulars will turn to your website to stay up to date with what's on. Now more than ever you need to be perfecting your website to increase bookings and visitation. This is where we'd recommend you invest first!
Focus on Search Engine Optimisation (SEO)
In addition to the above, the most essential step you need to take to increase the reach and awareness of your venue is to optimise the searchability of your website. What does this mean? Search Engine Optimisation (SEO) is the practice of optimising the content on your website to get unpaid traffic from a search engine's results page. For example, when a user types in 'craft beer pub Hobart' into Google, your SEO rating will determine where you appear in order of results.
Shambles Brewery and T-Bone Brewing in Hobart are two of the top three results that appear on Google, alongside a TripAdvisor page for 'Great Craft Beer Bar'. According to Forbes, the first page of Google captures 71% of search traffic clicks which shows by having these search terms on their pages they were easy to find and have a higher chance of website visitation compared to their competitors.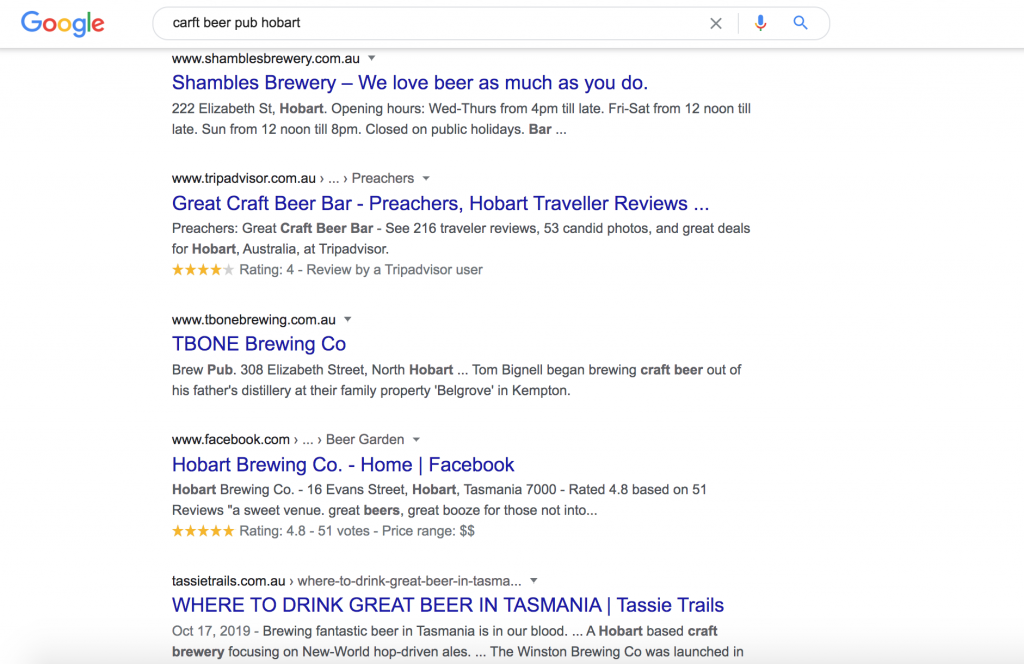 Whether you want to reach locals or travellers, you need to make sure that your website's SEO makes you a local hotspot and simple to find. Here are some quick ways you can increase your searchability:
Create a blog on your website with key searchable content that's useful and informative to your visitors. This not only keeps content current but also helps divert messages away from purely sales mechanics and can allow people to get to know your values and personality – building long term trust.
Ensure each page on your website uses local keywords and other forms of SEO coding including metadata embedded in pictures, videos and headings.
Use internal links (to other pages on your website) and external links (to affiliate websites)
Create a Google My Business Account and ensure that all of your information is up to date.
We won't lie when we say SEO can be tricky to navigate. Many businesses will often outsource their SEO activities to a digital marketing agency such as ours to increase their online visibility and website traffic. This is because it's critical that the right set of keywords are picked up and that they bring in the relevant audience to the website and this can be hard if you don't know where to start.
Be Active on Social Media
As of January 2020, there were 18 million Australians who had a social media account, according to Social Media Perth. Furthermore, according to Sensis, 99% of 18-29 year olds and 96% of 30-39 year olds are on social media. Therefore, it doesn't matter how big or small your restaurant or pub is; you cannot ignore the role that social media plays in building your brand and engaging in conversations.

Image source: Sensis
While Facebook has the greatest number of users in Australia, Instagram and more recently TikTok are expanding their reach in terms of engagement and subscriber numbers. As a business you should consider who your core target market is and which platforms are going to allow you to reach customers to continue your brand dialogue. Not only can you amass a following of people who are attracted to your venue and are likely to be repeat customers, but social media also provides effective organic and paid advertising opportunities.
We are seeing the role of paid advertising in COVID-19 more critical than ever, and costs for results are lower with fewer brands having a paid presence. For example, you can market cost-free on social media by running promotions and competitions to drive reach, engagement, visitation and bookings. Alternatively, you can look to paid social media amplification to a very targeted group, or to those who might have visited your website which can increase conversions. Regardless of the path you choose to take, you need to be regularly posting, community managing, encouraging and repurposing user generated content and building your tribe.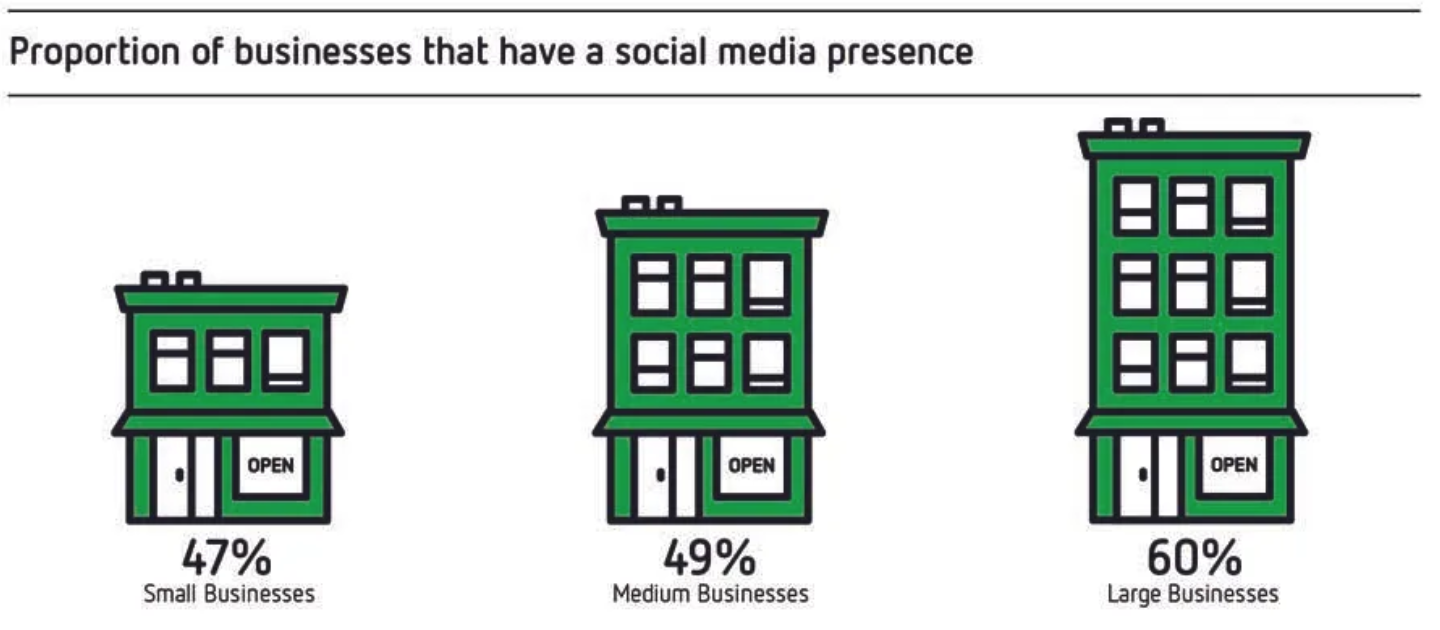 Image source: Sensis
Some leading venues in the UK have turned to Instagram to show how they are implementing social distancing skills due to COVID-19 to help their visitors feel safe and reassured of their hygiene practices. For example, Wild Flor in Hove shared their story to Instagram TV (IGTV)) to demonstrate the rigour behind their new safety measures:
Whilst Japanese restaurant Moshimo in Brighton have built a sense of theatre about their new safety measures including their dining divides that complement the space and a fun and interactive way they are capturing patron's contact details.
Closer to home, His Boy Elroy in Wollongong NSW have made light of the need to take temperature checks of those who wish to dine in, offering free beers with meals for those who hit the temperature check and it has been well received by their followers.
If your venue is not currently on social media, then we encourage you to secure an account sooner rather than later but think about the metrics as a communications tool rather than a guaranteed sales device. If you are already on Facebook or Instagram, perhaps think of your content strategy to build and nurture a community that will ultimately build trust and repeat business. Don't post for the sake of it, but think about the value you can provide and remember to tell your brand stories.

Utilise the power of Email Marketing
Email marketing is considered to be one of the most effective methods of digital marketing for restaurants, pubs and bars, and yet we often see many businesses neglecting this tool in your marketing mix. Using platforms such as MailChimp, Active Campaign and Campaign Monitor makes it simple to send messages directly to your subscriber's inbox as well as segment your email subscriber list with more targeted email campaigns. We've seen email drive the greatest returns in COVID-19 lockdowns, a way to keep a presence in your fans inbox, not always to sell but to entertain, educate and keep in front of your audience.
However, first you need to build an email list. Here are some quick ways to build your database:
Have a Sumo Bar or similar type of email capture tool on your website to capture names easily
Run a lead acquisition campaign on Facebook
Have a sign-up sheet at your venue
Encourage staff to ask for email details when customers go to pay their bill
Add email as a field needed when making a reservation online
Through email marketing you can create a personal touch with your patrons by sending them updates through a monthly newsletter about your establishment with special promotions, your COVID-19 health and safety precautions, what's on at your venue or new menu updates. It's also a great platform to use with call to action buttons that prompt subscribers to make a reservation and therefore increase your bookings for each night of service especially if you can segment and cater for locals and loyal patrons.
Take Advantage of Online Reviews & Google My Business
According to Business Queensland, the number of internet users reading online reviews has risen in recent years. In a 2018 study that surveyed 800 Australians, 68% of respondents reported that they read an online review before finalising their purchase/booking decision, whilst 43% had posted a review themselves in the last twelve months.
A large number of consumers make choices on where they would like to eat or have a drink based on the reviews they read online. These reviews can add a layer of credibility to your business. Therefore, you need to take advantage of online reviews and encourage customers to post a review on Google, Facebook, TripAdvisor or your website.
Whilst thinking of reviews, creating a Google My Business listing for your restaurant, pub or bar would be highly beneficial. Some of the benefits include:
It's free and easy to use
It allows your business to appear on Google Maps
Your contact information is easily accessible
It allows people to leave reviews which are easy to access when users Google your venue
Whilst you may get a negative review occasionally, it's important that you respond to all feedback. Those reading reviews like to see how venues respond to criticism and appreciate a level of acknowledgement and striving to do better. Word of mouth has never been more important than ever and you must help steer your venue towards positive associations and experiences.
What now?
Not sure where you should start or how to improve your digital marketing footprint? We can help! Feel free to contact us and we'll be happy to give you some guidance!