There's no doubt the World Wide Web is a fantastic playground and education resource for our children. But this wonderland comes with issues that prove tricky to tackle even for the most tech-savvy parents. Unlike our generation, our children (and those to come) are born into a digital world – they navigate the web and use social and gaming apps like the native users they were born to be. Minecraft, Instagram, Snapchat or What's App are engrained in their DNA.
The Mastermind teams works solidly with social media and web technology, so it might seem counter-intuitive to attend a session on cyber safety. But when Trish's children's school held a session with Leonie Smith, The Cyber Safety Lady, there was nothing to lose. And, boy, was she was blown away with all there is to learn.
Our schools, law enforcement agencies and parents are dealing with online bullying, paedophilia, stalking and cyber crime on a daily basis, which means our children are not always as safe as it might appear –  scams and online predators lurk quietly behind websites and apps. The Cyber Safety Lady reported that children are accessing content not intended to be viewed at a young age, and what they view is often violent in nature.
Individual circumstances vary depending on many factors and in no way does Trish profess to be the expert on this topic, but her feeling is that the more understanding we have of these issues, the better we can collectively make the internet a safe place for our children.
Here are some of Trish's key takeaways from the Cyber Safety Session – they are simple and easy to put in place in your own home.
Turn on parental controls
When we purchase a new device or computer, they are set up for adult use, so head to the computer's settings and turn on parental controls.
For internet use, Google search preferences can be modified to turn on safe search filters. And this applies to YouTube as well where users can filter out content that's not age appropriate. Head to Settings and search for Parental Controls or Safe Search.

Many Internet Service Providers (ISPs) have family filtering to filter out inappropriate content. But these filters are not fool proof – continually check settings to ensure the filters are still in place.
More information can be found at https://thecybersafetylady.com.au/category/parental-controls/
Minimum ages are applied for a reason
Did you know the minimum age for children to be on Facebook is 13?, Instagram is 13 and YouTube is 17+? And yet when the app is downloaded from the app store, the rating is 4+ to encourage downloads (meaning that it falls into the hands of children who may not understand the implications and dangers of interacting on the apps).
Apps like Instagram may be a great place for adults, but with poor filters in place it can be a hunting ground for cyber crime of all sorts and teenagers in particular are looking up hashtags like #killme and #Thinsperations in alarming rates.
Look at the minimum ages for the apps your children use and evaluate whether they're relevant. Check out this article on the Huffington Post from 2014 about social media age restrictions.
Make sure friends are real and appropriate
Who knew there was a vibrant market for creating fake profiles – predators and scammers often create legitimate-looking profiles to start conversations with children. Many online issues arise when children accept friendship requests from people who are not "real life" friends. Browse your childrens' friends list on Facebook, Instagram or any of the platforms to ensure the relationships are appropriate.
Think about your own Facebook feed – not only do you see content from your own friends, but from time to time content is shown from friends of friends and some of this may not be appropriate for children to view.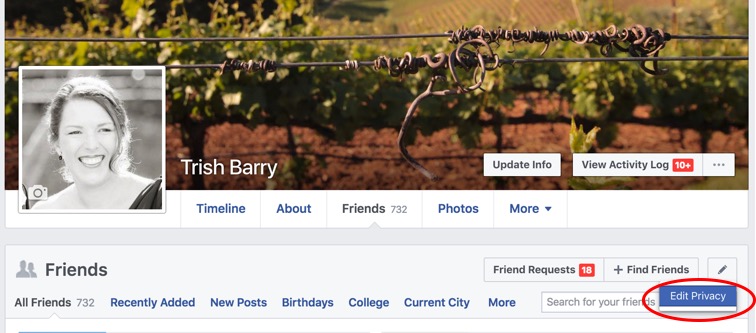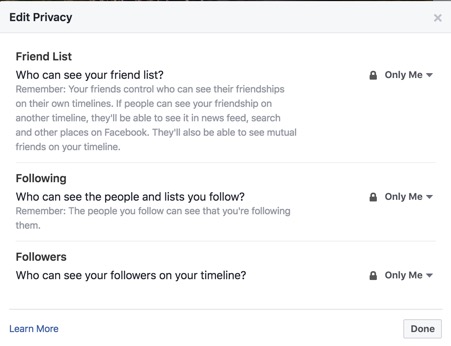 Go into your own settings and that of your children and edit your privacy within the Friends list on platforms such as Facebook (check your privacy by clicking on friends and then edit privacy).
Teach your children about their digital reputation 
Naturally, our children are ignorant about the digital footprint they're creating online. The long-term impact of content they post, particularly in messenger apps and platforms like Snapchat, can be troubling. When personal content becomes public, this can have ramifications later in life, for example, when they are looking for a job or even just forming new friendships.
A great video from the Office of the Children's eSafety Commissioner that's worth sharing (and looking at some of the other video's on their youtube page to keep you up to date)

It's also worth remembering that images we post of our children online contribute to their digital footprint, so while that super shot of your child on their fifth birthday might be entirely relevant now, ask yourself how they would feel about it in 20 years' time.
There's reportedly a robust black market for stolen photos, so set profiles to private where possible and have the conversation with your children about how to protect themselves and their friends.
Get to know messenger apps
The Cyber Safety Lady reported that bullying is rampant on messenger apps. Snapchat is the most popular in the 13+ age bracket and many children still think the content is safe because it disappears, but what they don't understanding is that the content can be saved and widely distributed.
Kik Messenger has fallen out of favour with many users, perhaps because it's one of the most dangerous apps (rated 17+ on iTunes due to its adult content). The privacy settings on Kik Messenger often don't work and you can set up as many accounts as you like with fake email addresses with no verification so police find it difficult to trace crimes. There are many unverified apps within the Kik platform, so if your child is actively using this platform, be aware of the dangers and perhaps encourage them to use a safer platform. Note that Instagam is often a feeder app for Kik Messenger so many children are being lured with content on Instagram so they move over to Kik.
Looking for the safest option? Apple Messenger and Skype tend to be the safest options if you set up privacy settings properly. Parents can share the app with children to regulate messages.
Who knows how safe a game is without playing it? The first port of call is to try the game or app yourself before allowing your child to play it. Not sure which games are suitable? Websites such as The Cyber Safety Lady are constantly posting reviews of apps, highlighting dangers hidden within popular platforms. The Cyber Lady suggests these games as safe options: Words with Friends, Limbo, The Room, Machinarium, Portal 2, The Cave, Lili and Badland.
If your children are into Mindcraft, or video recording apps – it's also worth taking a moment to read about some of the dangers and ways to protect your children via the Cyber Safety Lady blog on these specific apps.
Empower your children to make good choices
As children get older, they crave more and more independence, so it's worth teaching them how to make good decisions from an early age. But there's a fine balance between spying and setting boundaries. So start by monitoring internet use, monitoring their reactions so you can step in to assist, role modelling good decision making.
Also begin having conversations with your children about safe internet behaviour. As the Cyber Safety Lady reported, there's no minimum age to start these.
If your child is being subjected to cyber bullying, you need evidence – use the snipping tool or take a screen shot of the conversations to help schools and law enforcement agencies deal with the situation.
Understand the technology yourself
Yes, the digital landscape is continually changing, which makes it hard to keep abreast of developments but by better understanding the technology, you'll be able to help facilitate better conversations with your children coming from a place of authority and knowledge. Discerning information is available to assist parents in this space – keep an eye on these sites.