There's plenty of ways to listen to feedback about your brand on social media. However in many instances, the way that brands approach this is manual and time consuming. Mentions and conversations across platforms are often responded to by manually logging in and out of different accounts to monitor conversations and because of how time consuming this is, many exchanges are missed and opportunities to engage lost.
For a winery with limited resources it can be difficult to track conversations across multiple platforms – facebook may be easy to track with the facebook pages app or you may monitor your activity through platforms like hootsuite. But in many instances brands are missing out on blog mentions, four square check ins, delectable product mentions, instagram comments or exchanges in micro communities where wine lovers are congregating.
Many brands and industries outside of wine utilize sophisticated listening platforms like Radian6, Social Bakers or Sprout Social These tools certainly have benefits and can give great insights into category trends, influencers to engage with and sentiment around your brand. But for many wineries the cost of these platforms makes them prohibitive and they are only utilized by larger brands with bigger budgets. The bigger listening platforms also have limitations around the signals for winery conversations meaning that you need to refine searches to really get the insights you're looking for. And yet, there's a platform available that is specific and custom built for wineries and can really help to quickly improve the interaction that your winery is having with consumers online and via social media channels.
INTRODUCING VINTANK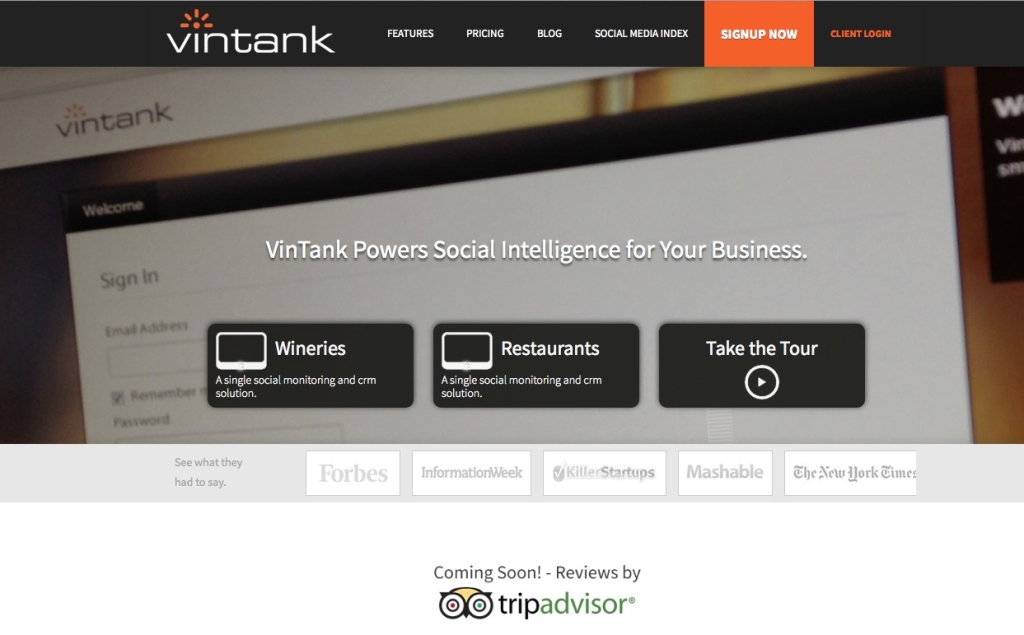 If you've not discovered VinTank yet your're missing out. Vintank is a customized social engagement and CRM tool specifically built for the wine industry and monitors more wine conversations than any other platform. It can more effectively hone conversations that are talking about your brand and give broader context to discussions. For as little as $75 per month  this platform is a no brainer. The daily emails can help your team to monitor and respond to conversations about your brand far more efficiently which gives you the time to service your customers and engage more with your community.
Vintank allows you to:
Manage social media conversations across a range of platforms including facebook, twitter, foursquare, instagram, delectable (with Tripadvisor integration coming)
Set up custom searches for your brand – put in names of sub ranges, winemakers, regions and monitor online conversations.
Identify influencers and rank them based on conversations with your brand
With the recent acquisition by W20 Group we expect to see much more functionality released over the coming months and additional resources to continue to add more sophisticated ways to listen to customers. This really is an exciting time for this sort of platform and those leveraging effectively will help to deepen customer relationships. This is an essential part of your social media toolbox and for many of our winery clients has allowed us to generate insights into conversations as well as identify relevant influencers to start to build a relationship with.
More information visit the Vintank Website or contact Paul Mabray on Twitter.