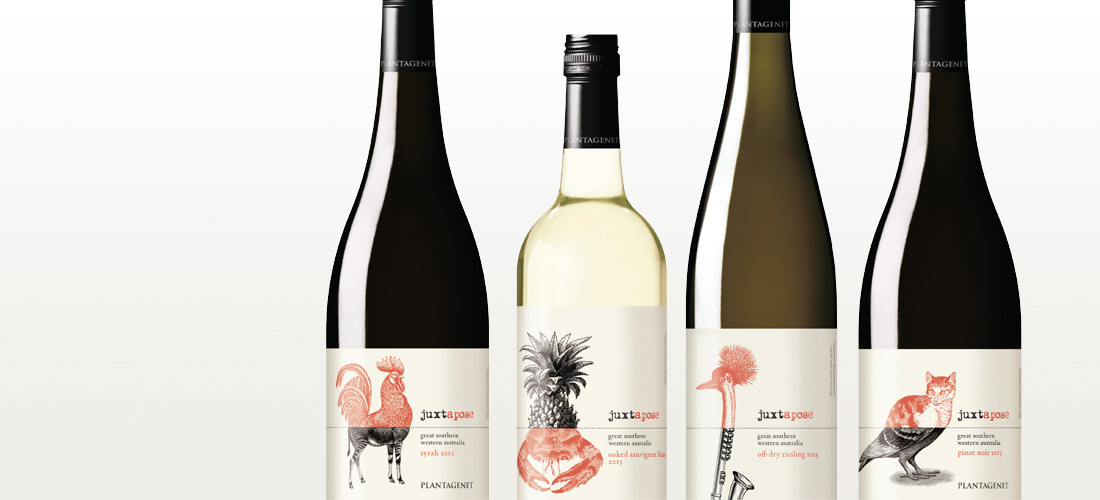 As a pioneer of Western Australia's Great Southern region, Plantagenet has been making wines since the 1970s. ,existed a great opportunity to make wines of distinction and difference. Through the brand planning process, Mastermind identified that Plantagenet Wines was crying out for a range to sell to the on-premise market and its wine club base – a "less commercial" range, if you will.
Along came  Juxtapose. Juxtapose tells the story of the juxtaposition (to place close together or side to side) of the Viticulturalist and the Winemaker – two very different creatures who can create something extraordinary, when they work together.
Mastermind Consulting was responsible for the brief for this label and helped bring the concepts to life through sharp copy and design inspiration with the Collective Design Consultants. The range has been incredibly well received, direct sales are strong and the label won the inaugural Wine Design Award Drinks International for Best Design for a Wine Range.
"Mastermind Consulting, headed up by the amazingly talented and hard-working Trish Barry, is the real deal if you demand the best outcomes for your brand. We have been working with Trish and her team for over three years now, and in that time, Mastermind has completely revamped and successfully relaunched Plantagent's Omrah range, developed and successfully launched our exciting Juxtapose label, totally reviewed our direct marketing sales model, including development of our new website, and developed an effective social media marketing campaign. As well as all this, Trish helps with the creation of presentations for management, the board, distributors and customers that are insightful, powerful and concise. She has also launched trade marketing campaigns that deliver all objectives and actually work! Trish and her team do everything possible to deliver great results, on time and within budget, but most importantly, they treat your brand like it's their own!"