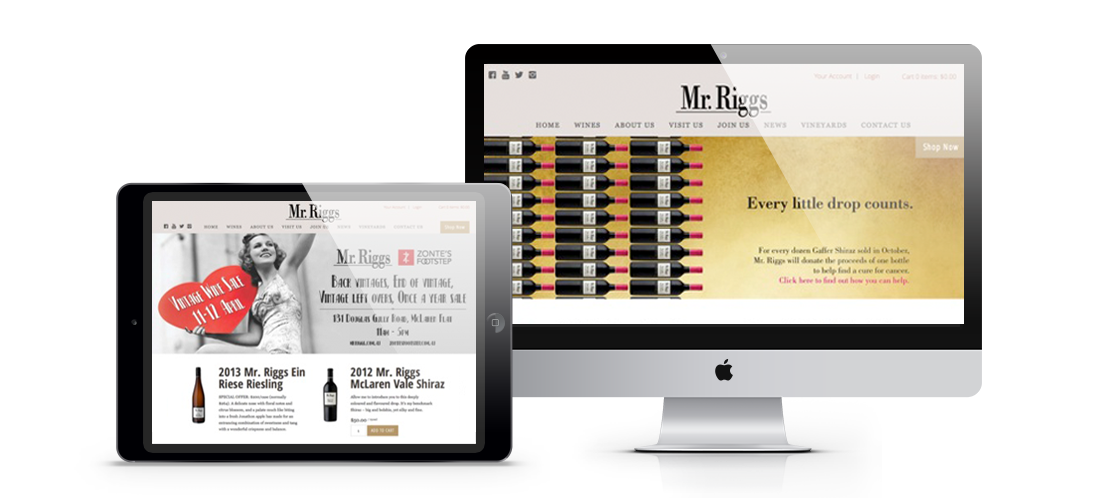 Ben Riggs is no stranger to the wine community. He has clocked a prolific 42 vintages over his time in the industry, 14 of which were spent at the helm of Wirra Wirra in McLaren Vale.
Now, Ben Riggs is leading the McLaren Vale charge at Mr. Riggs Wine Co. And what a mightily strong charge it is. After a few years establishing its production and general sales base, Mr. Riggs approached Mastermind Consulting to help refine its marketing messages, develop a brand strategy and bring the brand story to life.
How did we do this? One of the most successful ways to establish a brand's DNA is to recognise the business's points of difference. Mr. Riggs' points of difference are many (producing world-class South Australian wines is certainly one of them), but it is Ben Riggs' distinctively pithy and sharp character that truly sets it apart. Ben's personality shapes much of the brand's celebrity, and so when re-launching Mr. Riggs' website, the copy was written in a style that truly reflects Ben's eccentricities. At Mastermind, we believe that when communicating with your audience, it's vital to create an authentic dialogue between the consumer and the brand. And this is what goes on at Mr. Riggs' new website.
We helped to launch their new website, implemented new direct marketing initiatives and as a result, there has been a sizable increase in direct-to-consumer sales.
"Trish and the Mastermind Team have become a valuable partner in the growth of our Mr. Riggs brand. Not only has she contributed greatly to our new Brand plan, she is always giving us up to date knowledge to keep us on the front foot. As a bonus, she is an absolute pleasure to work with on a day to day basis which makes the whole process enjoyable and easy."