Amid the U.S. government's plans to potentially ban TikTok due to data privacy concerns, on August 5, 2020, Instagram announced the release of a new feature that's similar to the China-based app – Instagram Reels. With TikTok's future uncertain, Instagram is hoping to lure users away from its competitor with the rollout. We look at the difference between Instagram Reels and TikTok so you can weigh up which one is best for your brand.
Similar to TikTok, Reels allows users to create 15-second videos set to music that can be shared with followers and discovered by anyone browsing the app. It's the latest opportunity for Instagram to bring in users, increase the amount of time people spend in the app every day, and establish itself as a video entertainment platform. Remember, Instagram has already introduced Stories to compete with social media competitor Snapchat and IGTV to rival YouTube.
Video source: Facebook
Facebook, which owns Instagram, first started testing Reels with users in Brazil in November, before rolling the feature out over the past few months to the US, Europe and Australia. For creators looking to use Instagram Reels as a new way to build a following, Instagram has revamped its Explore page to create a specific landing spot for Reels at the top of the screen that people can scroll through, similar to TikTok's 'For You' page – a place for creators to possibly go viral or find new followers.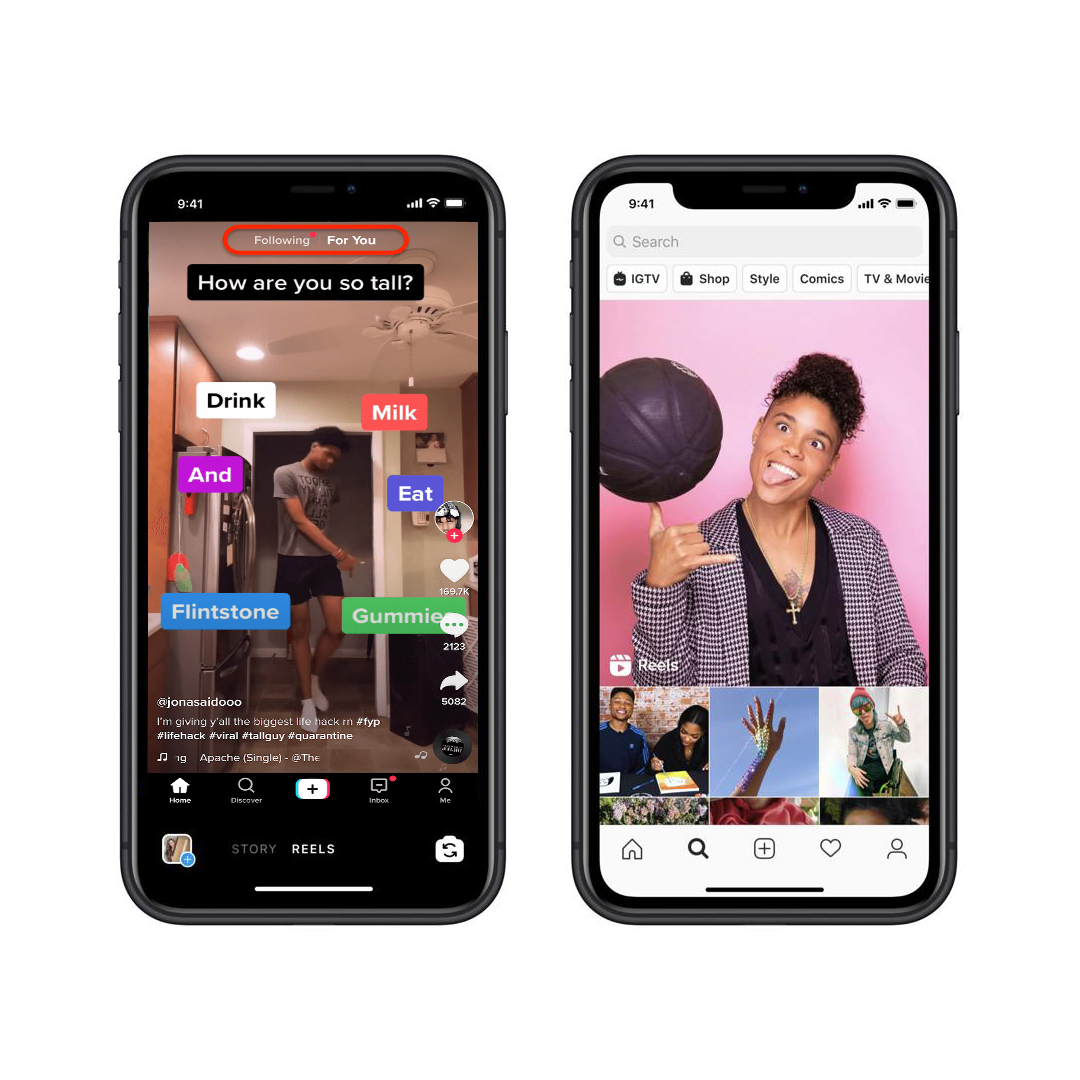 Image source: Forbes & Social Media Examiner
What's the difference between Instagram Reels and TikTok?
Reels' biggest difference to TikTok is its connection to the overarching Instagram ecosystem. It's another thing to do on Instagram and another way to find entertainment beyond scrolling through Stories and our Feeds. Users can send Reels to their friends directly on Instagram and they can use filters and tools such as Boomerang. Users no longer need to leave the platform to create these short-format videos and it allows for more choice, flexibility and creativity while in the app.
There are a few features that Reels doesn't have, such as being able to Duet with other users, a core TikTok feature that lets people interact with, build upon, and remix videos. According to Social Media Knowledge, TikTok will also be releasing their new Stitch feature soon which allows users to reimagine other people's content by taking a clip of up to five seconds and using that in their posts, essentially stitching two videos together.
Another key difference is the time limit of the videos. TikTok recently extended the maximum length of its videos to 60 seconds in early 2020. It used to only allow videos of up to 15 seconds, which is what Reels has decided to go ahead with. Mastermind's research shows that users typically like to gobble up short and sharp videos, with many dropping off after the first ten seconds. Therefore, it looks like Instagram may have a good reason as to why they have not decided to extend their Reels time limit to one minute.
Instagram users have to be a minimum of 13 years old to use the platform and content can be restricted based on a user's age. For example, if you're under the legal drinking age, you can be restricted from seeing an alcohol brand's content. This is good best practice and something to consider if you are a winery, bar, distillery or pub. TikTok does not have an age gate on the platform, therefore the waters are murky when you consider your obligations of responsible marketing.
Both Instagram Reels and TikTok have entered the social realm with a bang. TikTok has existed for two years and it has already become a cultural staple for Gen Z. TikTok has had more than 2 billion downloads and in late 2019, TikTok dominated in downloads, beating Instagram by over 238 million users, Gary Vaynerchuk reported. While Instagram Reels has only been live since early August 2020, 32% of Instagram users have used Reels since its launch and among those 32%, nearly half used it daily, while 24% used it more than twice a day, figures form Social Media Knowledge show.
Why you need to be using video to market your brand
What we're seeing from these short form videos, is that there is a trend moving away from photos and imagery and towards video content. Social media users want to engage with short and punchy video, and we know that social media platforms see a need to make this type of content more accessible for users to create and share. YouTube is testing a feature that allows mobile users to create short, 15-second clips as well. Although the feature is not yet public, we know the differences include users being able to string multiple clips together and the ability to post multiple clips as one video.
If you're not currently using video as part of your marketing content mix, now more than ever you need to be doing so. TikTok may not be the right platform for you, particularly if you're an alcohol brand or your target audience is an older demographic. If your business or brand has an exisiting Instagram account, why not play around in Reels and create some engaging video to share with your followers and to reach new followers. Instagram's algorithm is currently optimising Reels to the top of user's feeds to encourage uptake, so now is the time to be using it.
We'd love to know your thoughts on Instagram Reels and TikTok. Are you using either already? Will you trial them for your business? Get in touch to let us know!