Wine clubs represent the golden ticket to stable long-term revenue for wineries. More and more, wineries are focusing on this direct-to-consumer revenue stream because it represents an opportunity to build an intimate relationship with your most valuable customers, rewarding them with experiences, unique product offerings and allowing wineries to tell their story in the most considered way possible.
And yet to date, many wine brands have neglected the wine club – it's been a vehicle to clear stock, off-loading unwanted products, with no real thought about the offer and communication with this valuable group.
Did you know that average wine club member buys almost seven (!) bottles of wine when visiting a cellar door and spends almost $65 more per visit than non-members?
These wine lovers are often predisposed to regular purchasing, so ensuring your most compelling offers reach this group is a strategic imperative.
Here are our top 5 tips to drive more wine club sales:
Make members feel like VIPs
What's the point belonging to a club if there are no intrinsic benefits? Discounts, free shipping, first offers and exclusive wines are all assumed when signing the dotted line. But one of the most important (and often neglected) benefits is that membership must foster a sense of importance. Treat your wine club members as VIPs. How? Not by sending them the leftover wines sitting on your inventory. VIPs need to feel special – they're the ones who should receive you most compelling offers and special treatment. And sometimes the devil is in the detail.
On our recent tour to the Napa and Sonoma, we discovered brilliant examples of brands providing VIP treatment to wine club members beyond the wines they receive – preferential parking, separate areas for tastings, specific events, beautiful marketing collateral, member-only wines. These factors are all built into the offer.
Presentation of the wine club package can have a huge impact on the customer experience. Investment is often required up front, but how do you measure the customer's emotional response when they open a beautiful package of wine that makes them feel like a VIP? When the proposition is right, return on investment will very quickly make itself evident.
It's also worth remembering not all customers desire iconic flagship wines, so consider your core audience and construct an offer that meets their needs. It might also mean that you need to create multiple tiers of membership to meet the needs of the different segments that sit within your consumer profile.
Communicate the offer clearly and make it easy to sign up
How many times have you walked away from a loyalty or membership sign-up because the time and effort required was ridiculous and the benefits unclear? Make it easy to join. It's that simple. Create compelling sign-up collateral, explain the benefits of being a VIP and train staff to actively recruit members as part of their job.
Once you've recruited members, consider storing customer records in a customised or easy-to-use system that makes the club easy to administer. Many of the winery website systems such as BlackSquare, Cru.io, Foote Francis or Vin65 have the functionality to recruit and administer the wine club easily.
Cellar door is the greatest acquisition point
The yellow brick road of wine club success leads to your cellar door. This is where it all happens! Research conducted by ecommerce specialist BlackSquare indicates 80% of wine club members are acquired at cellar door.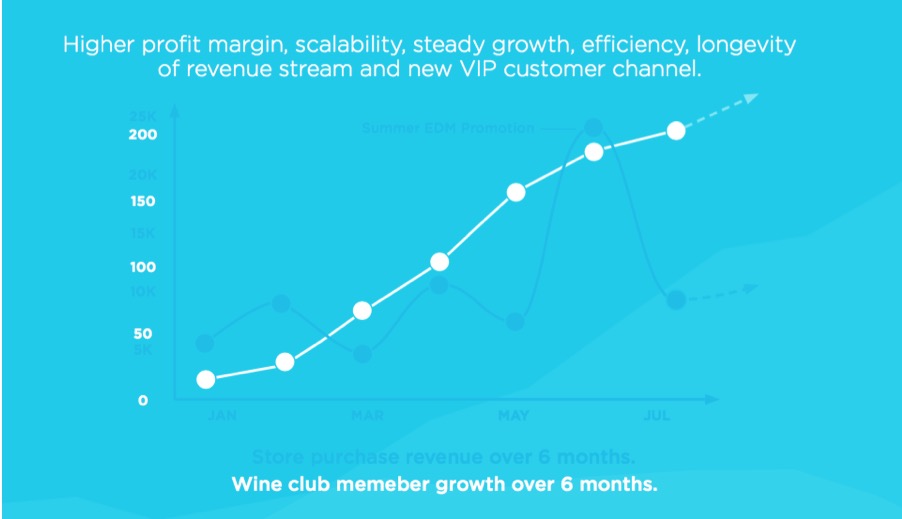 Source: Blacksquare
Given the importance of this point on the customer journey, it's vital staff are trained to be actively acquiring new names on your database and are well versed in singing the praises of wine club membership. Why not consider a group incentive for new membership acquisition when milestones are achieved?
And when wine club members are acquired through staff incentives in tandem with email marketing campaigns, significantly higher growth occurs.
Keep the romance alive post sign-up
Don't sign up your wine club members with promises of forever, then leave them floundering with no membership love. As is the case for the future of all good relationships, communicate after the first date and chances are they'll stick around. Ask these questions:
what is your welcome strategy?
are regular communications being sent?
is there a reward system in place for loyal customers?
Many of the successful brands we work with segment their email communication so each segment understands the value of their offer – giving them pre-releases, or highlighting the savings when purchasing directly.
Here's an example of the collateral Mastermind has designed for our clients to help communicate stories and convey the value of membership to wine club members.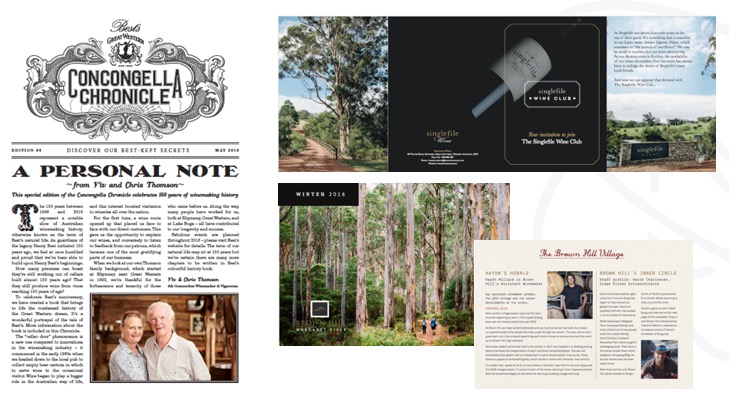 Segment your database before recruiting
Do you have customers who spend more than $300 every 12 months? What about loyal fans who buy the same releases year in, year out? Why not call these customers and chat to them about the value of joining a wine club? Chances are they'll spend about the same amount (maybe a bit more). If you impress upon them the value of joining the club, of not having to manually re-order every time their cellar runs bare and of securing their wines before they're made available to the public, in person, over the phone, they'll be unable to refuse.
'Refer a Friend' campaigns or specific acquisition offers, such as giving away a free bottle of wine on sign-up, can be highly effective ways to increase your membership base.
Many relationships come to a natural end, and it's exactly the same in wine club world. Research shows wine club members remain in clubs for an average of 24 months, spending anywhere from $300-$500 annually. So it's critical to constantly think about recruiting new members at the different touch points of your brand.
Need a hand growing your wine club? Give the Mastermind team a call on 02 9818 7142.