Image Source: Forbes 
In June 2019, Apple announced that there would be policy changes that would limit data sharing across their iOS 14 update, set to be released in early 2021. These changes would affect how Facebook and other social media platforms could process and track a mobile user's data to target them with specific communications.
The roll out of the new update has commenced and the digital marketing community along with small businesses hold with bated breath to see what implications these changes will have on their marketing and sales results… Let's take a look at what Apple's new privacy changes mean for social media marketing.
What are the new iOS 14 Privacy Changes?
Apple's iOS 14 update will require apps in the App Store that engage in what Apple defines as 'tracking' to show a pop up to users, asking for their consent to have their data collected.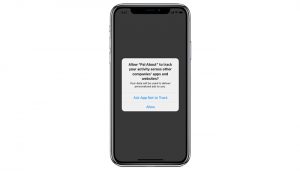 Image Source: Apple
Tracking refers to the act of linking mobile device data collected from an app, such as Safari or Google Search, with other companies, such as Facebook, for targeted advertising. For example, as a small business you may want to retarget consumers who visit your website to sign up to your email list. You can currently use Facebook as a platform to reach these people, however with the Apple privacy update this will be limited.
In short, Apple's policy will prohibit certain data collection unless people opt in to tracking on iOS 14 devices via the prompt. As more people opt out of tracking on iOS 14 devices, social media ad personalisation and performance reporting will be limited.
What the iOS 14 update means for Social Media Advertising
Apple's privacy updates seem harmless enough, even inevitable during a time where user privacy is paramount, but that doesn't make its impact on the marketing industry – and therefore small businesses – any less disruptive.
Facebook's immense size and popularity allow it to track users across several apps and websites owned by Facebook, making it an Internet advertising giant. But Apple's recent move will limit access to the user's activity outside the Facebook app. As a result, it will impact the effectiveness of its targeting tools, Facebook ads, and performance reporting. Specifically, these changes will limit your ability to:
Effectively deliver ads to people based on their engagement with your business
Measure and report on conversions from certain customers
Ensure that your ads are delivered to the most relevant audiences at the right frequency
Predict and optimise cost per action over time and efficiently allocate budgets.
Small businesses advertising on Facebook will likely be the ones most impacted by the limitations posed by Apple's updates. These policy changes can potentially make identifying and reaching the right target audience harder for smaller businesses, which would, in turn, limit their reach, brand awareness and therefore growth.
Facebook issued a statement on how the update could decrease ad performance on the platform: "Apple's proposed changes will limit your ability to effectively reach, understand and engage people on mobile devices and across the web. They will affect your ability to understand performance, control who sees your ads and make informed decisions about your advertising budgets. As these changes take effect, over time, you may see an overall decrease in ad performance and personalisation and an increase in cost per action."
Furthermore, under Apple's new policy, businesses will be limited in their ability to measure the performance of Facebook campaigns. This includes:
Delayed reporting: Real-time reporting will not be supported and data may be delayed up to three days
No support for breakdowns: Delivery breakdowns, such as age, gender, region and placement will not be supported
Changes to account attribution window settings: Once Apple enforces their iOS 14 requirements, the attribution window for all new or active ad campaigns will be set at the ad set level, rather than at the account level. This ad set level attribution setting ensures that the conversions measured are the same ones used to inform campaign optimisation and will allow for increased flexibility and clarity when analysing ad performance. Additionally, the default for all new or active ad campaigns will be set at a 7-day click attribution window.
While there is a wealth of information regarding the changes we can expect, there is still uncertainty as to how dramatic these changes will be. We will not know the severity of these implications until we begin to test, learn and understand this new era of social media marketing.
What's next?
Along with Facebook, Mastermind Consulting's priority is to continue to provide stability to our small business clients. We are doing what we can to help our clients prepare and mitigate the impact from Apple's new privacy policy.
We will continue to support our clients through these changes and will do our best to provide additional updates as Apple chooses to offer more transparency and makes additional information available.
We encourage you to share this information within your business or team, and develop a plan to address this disruption to your existing marketing efforts. If you have any questions or wish to reach out to Mastermind Consulting, please do not hesitate. We're here to help!