FACT: it's simply unbelievable that many promoters of brands still consider social media a free form of marketing. It frustrates me no end to hear so called "marketing experts" referring to social media channels being "free". It's misleading and sets the wrong expectation about how these tools need to be utilised as part of a broader marketing mix. If there's one thing marketers should know by now, it's that the opposite is true. Social media may be a free platform to access up front, but it's merely the vehicle. And vehicles don't go anywhere without fuel, right?
Sure, load up your content onto Facebook and Instagram but it won't reach your desired audience unless you allocate funds to drive it to the desired destination. Yes it's true, we use platforms like Twitter, Facebook and Instagram to connect with friends and family without paying a cent, but for brands to cut through the frenetic mash-up of messages on social media, it's an entirely different ball game.
When the Mastermind team started helping clients with their social media strategies in 2009, it was a very different playing field. There were fewer brands with a social presence, content achieved higher reach organically and the algorithms of how content is syndicated were not as complicated. Paid advertising options were basic and the goal at the time was all about gaining "likes" for your page – because let's face it, it was the key success metric executives were talking about.
At that time, Instagram was only in its conceptual phase with an impending launch, Snapchat was something you did over a game of cards and Google+ was being talked up as a game changer. The game has now changed significantly…
Unfortunately for brands, the organic reach of content, especially on Facebook, continues to decline. A recent article on Social Media Today quoted a Buzz Sumo study, which analysed more than 880 million Facebook posts from publisher and brand pages over the last year. The study revealed a clear decline in engagements since early 2017.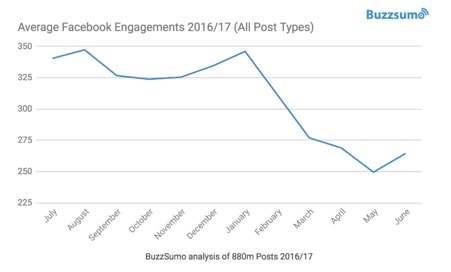 Facebook's second-quarter 2017 Financial Reports noted there were 1.32 billion Daily Active Users on the platform in June 2017, which represents an increase of 17% year-over-year. And with such an extensive audience to target, it's no surprise Facebook is cashing in on advertising revenue!
Facebook's total revenue grew by 45% year-over-year to $9.3 billion, and advertising revenue up 47% to $9.2 billion. And Asia Pacific saw a sizable chunk of this revenue. With Facebook owning Instagram, revenue will continue to grow. Expect to see more ads, especially as mobile usage increases.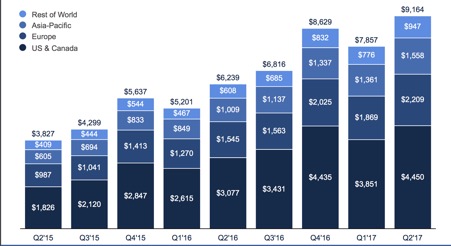 Savvy brands have already figured out that paid social can enhance their marketing. These brands are all over the regularly released options to target consumers. They have accepted that the landscape will continue to evolve and that their use of social media has to be just as nimble and agile.
The Mastermind team has executed a large amount of paid social media campaigns. In fact, we're experts. We specialise in Facebook, Twitter and Instagram advertising and over the last 18 months we've worked with 14 winery clients on their social media paid advertising, with a total spend of $48,000. Some campaigns were customer acquisition campaigns, others amplifying content, others promoting website traffic to drive visitation.
We proactively manage these campaigns on a daily basis to deliver exceptional results as seen by some of the results below:
Total reach of wine lovers within Australia – 1,838,585 people
Actions (people commenting, liking or sharing content) – 328,158 people
Clicks on ads – 92,261
Link clicks to websites – 29,829
Social reach – 639,986 people
Post comments – 2050 people
Video views watched to 25% – 182,973 people
Check-ins to venues – 102
New pages Likes – 10,820
What we've learnt from these campaigns is that brands need to allocate enough money to make their spend effective. Boosting posts with a $30 spend here and there will not make a long-term impact. And for larger campaigns, it's even more important to allocate sufficient funds in order to test, optimise and ensure the reach and frequency are right.
Think about it, would you design an outdoor campaign and expect it to work with placement on only a handful of bus shelters? The same principles apply to social advertising. And remember, coming into the festive season the costs of the social media ads will increase and reach will decrease dramatically, as the competition to access consumers intensifies.
However, the beauty of paid social media advertising is that it's incredibly measurable. You can test, optimise and measure results and see how they're contributing to your broader marketing campaigns. Take these tips for successful social media marketing.
TOP 5 TIPS for PAID SOCIAL MEDIA SUCCESS
Make sure the content cuts through – this could mean a beautifully constructed blog post, an engaging video or photos that resonate with your audience. Ensuring content is right for the target market will have a huge impact on the results. If your brand is not well known, you need to work even harder on the content to ensure consumers give your brand any consideration. Investing in quality video, photography and written content will reward with long-term dividends.
Allocate enough funds to reach your audience – think about your audience. If you only want to talk to the fans on your page, the funds will be smaller than if the goal is to reach new consumers. If that's the case you need to consider the reach and frequency of the campaign, the duration of the campaign and how many segments you are targeting. Then set the budget.
Think about your campaign objectives – different ad types exist for different actions. Just boosting posts to ensure you get reach may not be the smartest way to get your campaign in front of the right group. Discover the different ad types and combine them with the more sophisticated platform features to your advantage.
Analyse the numbers – you'll often be surprised at what drives the strongest results through upfront testing. Certain creative may not resonate the way you thought it would. Testing on segments will provide better results.
Get professional assistance – the true value of paid social is understanding the opportunities of the platform and being much more targeted in your campaign planning. Did you know you can leverage your email list to create a custom audience? Or set up pixels on your website to retarget (but update your privacy policies first)? Or create custom audiences based on previous behaviour? The Mastermind team spends time every week keeping up to speed with the platform changes and figuring out how to get the best results. Question whether this is something you can do yourself or whether you need to seek professional support.