The marketing landscape is a moveable feast. As much as we love working in an industry that constantly changes, it's often hard to keep abreast of the latest digital and social media trends. So to kick off 2016, the Mastermind team has summarised the big developments for you to factor into your 2016 marketing plans.
A handful of the following trends have featured in the hotlist for the past few years. Why? Their capabilities and role in commerce marketing are continually evolving and proving their merit. Other trends continue to escalate and need to be constantly monitored as to how quickly consumers adopt them and for you to implement quickly if significant for your business.
Consider how you can utilise these eight tools and technologies to remain relevant in 2016 and beyond:
1. "Mobile First" is the norm
How often do you use your mobile phone to look for information? For many, the phone is a constant (and only) source to research, connect and communicate. With more people now globally owning a smartphone than a toothbrush (yes it's true!), mobile has already outstripped desktop usage globally. It's anticipated in the Tune Mobile Marketing report that by 2020, 80% of the worlds population will own a smartphone. And yet, so many brand websites are non responsive and the mobile user experience is terrible!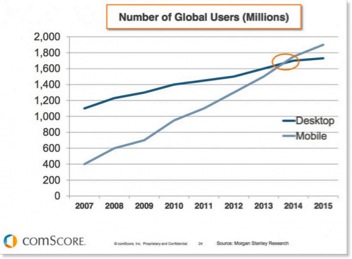 So the lesson? If you haven't put mobile on your marketing agenda, it needs to be your key focus. Google has been prioritising mobile-enabled websites as part of its algorithm during 2015, so if you want to be found in organic search results without having to pay, optimising your mobile experience is imperative. At a minimum, this means a mobile-optimised and responsive website but could also include custom apps and mobile-targeted campaigns.
2. Facebook will out-perform other social media platforms but its audience will be older
Facebook continues to be the most used social media platform, with Smart Insights reporting Facebook's penetration is 81% of the total digital population and it's responsible for nearly 230 billion minutes of user engagement. Time spent on Facebook is nearly 18 times that of the next biggest social media network. Marketing-related conversations often focus on the lack of use by the younger generation, but it's worth noting that its older audience is on the rise.

For brands, the sheer velocity of Facebook users continues to impact organic reach numbers, especially when content is strong. Locowise November 2015 Facebook and Instagram findings showed that Facebook organic reach and engagement were at historically low levels. The average Facebook post reach was 7.15% of all page likes (8.94% for videos), 8.36% for links and 6.7% for photos. We've noticed this decline in organic reach for a number of brand pages, but when good content is published, organic reach rises to 30-40%.
To be effective on Facebook, quality content matters and subsequently, allocating funds to amplify the best performing content is key. Don't write off advertising on Facebook either – the platform constantly develops new cost-effective ways for brands to reach consumers.
3. Consumers' expectations for quality content will increase
We live in an age of content delivery – it's thrown at us from all angles. Think about your own experience – blatant sales messages are unwelcome and pushy, but content that is relevant and well produced is valuable and sharable.
Social Media Week's Review of 2016 trends noted, "Smart content creators will factor in users' preferences for video and image over text, their preference for custom content over shared content. And it is important to note that these preferences exist in B2B sector as well as B2C."
The need for quality content cannot be understated. Smart Insights Report survey for 2016 found that 28% of marketers reported content marketing as the most likely digital marketing technique to increase commercial returns in 2016.
With the desire for content comes the emergence of new social publishing formats. Snapchat Discover, Twitter Moments and Facebook Instant Articles heralded a focus on more innovative editorial features. Consistent and well-produced visual content continues to be a priority – gone are the days of publishing a random image in a blog or social media post and hope it gets traction.
4. Messenger apps are eating the traditional social media world
Studies have shown there are almost four billion people actively using messaging apps, from Facebook Messenger and What'sApp to KIK and Wechat. And Mobile Marketing Watch reports this figure could reach two billion by 2018.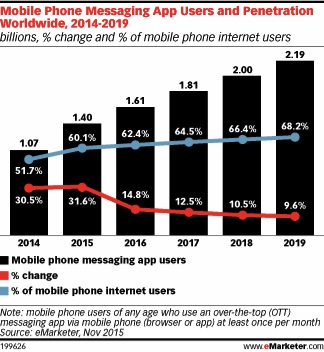 Source: Emarketer 
As consumers look for cheaper alternatives to SMS, MMS and voice calls, platforms like Facebook increase their focus on messaging apps to grow market share. Tech Crunch reports that Facebook Messenger app was the fastest growing app of 2015, with 31% YOY growth and an estimated 96,444,000 unique users. Don't forget that Facebook also paid $19 billion for What'sApp in 2014!
Not much data is available about website traffic uplift and sales success of brands using messaging apps but 2016 may be the year in which we gain more insight.
5. Paid advertising comes of age
Social media ads may be annoying for the user, but the reality is they are becoming more prevalent in news feeds, particularly as ad revenue is a core profit driver and as platforms need to show revenue growth to investment markets.
Social Media Today reports that in 2015, companies increased their social advertising expenditures by more than 30%. This spend has come from traditional digital formats being impacted by the evolution of ad blocking technology.
The evolution of ad blocking technology is making it more difficult to reach customers, and it's likely this evolution will fuel the growth of native and social media ads. Consumers are going to great lengths to block ads – highlighted by the rollout at the end of 2015 of Apple's support for ad blocking technology on iOS9. Social@ogilvy Trends report 2016 found that since then, ad-blocking apps rose to the top of the list in the app store. Expect to see android ad blockers supported in 2016.
Buyable pins will soon become common on Pinterest and more brands will start to use Facebook, Twitter and YouTube's buy buttons, and specifically targeted campaigns that are aimed at converting consumers in the customer journey. It's clear paid social will become a core component of online digital spend.
6. Personalisation
For marketing strategies that combine content and ecommerce, relevance is the biggest priority. Mass-market messaging no longer works – the more targeted and personalised the messages, the greater the impact.
The tools available to personalise communications continue to grow but to be successful, you need to map out the consumer journey and focus on the content being produced. This could be a welcome series for new e-newsletter members, or a series of trigger emails post purchase. Perhaps you can send a before-release note to your most loyal customers advising of new products or services with an incentive to buy?
Econsultancy noted, "By continually testing the key aspects of your communication strategy – tone and content, level of communication, frequency – you'll find the sweet spot for boosting your revenues while adding value to your customers."
7. Video continues to grow across multiple platforms
According to Cisco, video will account for 69% of all customer internet traffic by 2017, and it won't only be business generated. Many companies will leverage user-generated video in their content marketing strategies.
When talking about the rise of video marketing, Gary Vaneyerchuk, commented, "Whether it's video on Facebook, Twitter, Snapchat or Youtube, the content you need to be thinking about creating and marketing on social for your business is video. Period."
The role of video continues to evolve as consumer interaction grows. In 2015 we saw the explosion of live-streaming video apps like Periscope, Blab and Meerkat, so expect to see more innovative campaigns this year. Facebook has announced it will open its live feature to allow users to live-stream directly from the app to their newsfeed. Google will also continue to evolve its video hangouts.
Live video already has the power to connect you to your audience in a more personal way than blog posts, ebooks and even audio content such as webinars or podcasts. Plus, with live-streaming video there isn't quite as much pressure to edit and polish the content. You can be a little more off the cuff, which may scare some but may also be liberating in terms of time.
8. Marketing automation will evolve
Hubspot reports that as marketers today are spending at least 50% of their time on content, companies are coming up with more ways to automate marketing. Marketing automation alone is worth $5.5 Billion and is leading the way in lead generation and prospect nurturing.
While companies of all sizes can easily identify the value automation brings, these platforms are most effective when paired with content that is relevant for different buyer groups.
Salesforce noted  "just as search engines seem to get smarter the more people use them, the way marketing automation platforms gather data and analyze it to produce insight will become more nuanced and specific."
Other considerations:
We simply don't have room to list all the trends to watch out for in 2016 – the impact of wearable technologies is just another one on the list. Remember, the power of these trends is how you integrate them into your traditional marketing activities and not treat them as isolated activities. Success will also often come by not treating digital and social in isolation, ensuring there's a cross-functional approach across the organisation to implement initiatives successfully. Good luck! And remember the Mastermind team is here to help if you need ay direction in 2016.