Australian Bushfires – Supporting Producers who are "More Than a Good Drop".
The recent Australian bushfires have been devastating to watch unfold. Those directly impacted are very much top of mind and our thoughts are with those who have lost lives, property and businesses across the country. It's been beyond heartbreaking to witness and we know that the danger continues for many. The true national heroes have been the people on the front line, battling the fires, helping with basic necessities and fighting desperately around the clock to save lives. We salute you!
It's the human stories of hope and comradery that result from the darkest of hours that make you feel most proud to be Australian and there's so many inspiring stories coming from the bleakness of the situation. This will be a long road to recovery for many, but the sense of community is so strong. Fundraising for the Red Cross, NSW Fires Service, CFA Victoria, CFS South Australia, WIRES and Food Bank continues to surpass all expectation. As well as donating to these national charities, our Mastermind team's pledge is to rally support for wine, food and tourism brands affected by the fires through a campaign we're calling: "More than a Good Drop".
We have received an outpouring of support and concern shared from our international connections in the wine and food industry. The media coverage has put many of these producers and regions in the global spotlight and people want to help in any way that they can. Sadly, many brands that we've worked with over the years have been directly impacted – either in Adelaide Hills, Tumbarumba, the Hunter Valley, King Valley or in the Alpine Valleys. Our friend and Mastermind client, Jo Marsh from Billy Button Wines in Bright, Alpine Valleys is one of the wine producers in the firing line currently and many other industry friends and colleagues have lost vineyards.  For others, smoke taint will impact what remains – it does appear that some wineries will not produce a vintage 2020 at all.
Helping to give winemakers like Jo at Billy Button and food producers a voice during this traumatic time, through social media and our extensive network, is where we can give support with lasting impact. These are the communities we work with daily, it's also our livelihood and we want these producers to continue to thrive.  Recognising the tiny brands without a cellar door, lesser-known growers, agricultural producers and the suppliers or partners, who may not be as visible, is equally as vital. We aim to be another voice for those who need their stories told and to keep the spotlight on people who need help after the immediate danger has passed.
Putting the spotlight on the most affected wine regions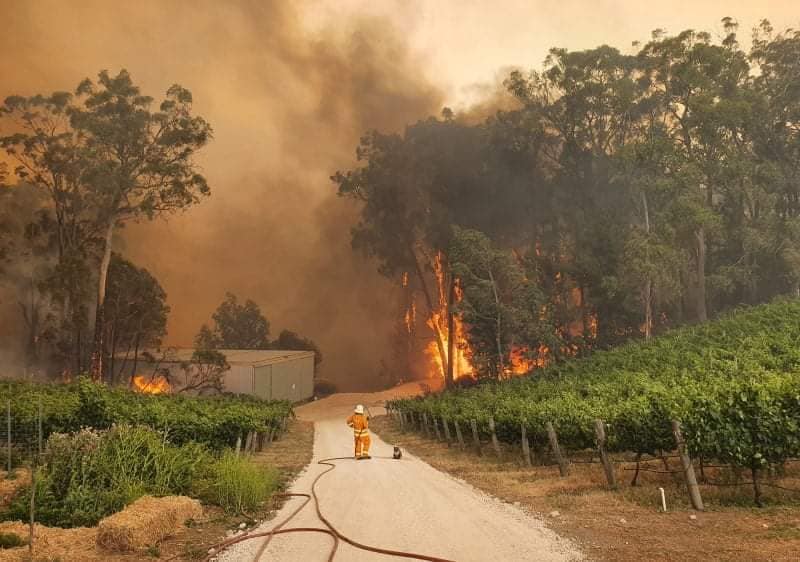 Image Source: Eden Hills Country Fire Service 
The Adelaide Hills has obviously been in the spotlight, reportedly losing almost a third of vineyard resources, but there's also been devastating losses on Kangaroo Island, Tumbarumba, the Hunter Valley and in the King/ Alpine Valleys as well. As we write this piece, many are still on 'watch and act' situations with more predicted heatwaves on the horizon over the weekend making conditions unpredictable.
What can you do to help?
 Support those businesses and buy DIRECTLY from those who need our support 
Buying directly from the wineries and business impacted helps with immediate cashflow, and you might just find that you love their products so much that you end up signing up for regular deliveries or joining their wine club. They receive a larger margin for their products that can pay wages and bills rather than relying on wholesale payments to come in months later.
These wine regions and brands need your help:
VICTORIA:
Alpine Valleys/ King Valley and Beechworth
The Alpine Valleys region of Victoria including the town of Bright and the neighbouring King Valley is still at risk. With approximately 1,900 hectares of vines, this region produces some excellent alternative varietals and much of Australia's Prosecco.  Some brands to look out for: 
NEW SOUTH WALES:
Batlow/ Blue Mountains
This is the heartland of many agricultural producers, especially those with apples and hence great cider! The town of Batlow was decimated and there's a Go Fund Me campaign organised by Batlow Cider helping people rebuild.
Wilgro Orchard – Long term Batlow residents who own an orchard in Batlow growing apples, cherries and berries. The house and shop were saved but the family have lost hail netting, sheds, trees along with this years cherry and apple crops, cider and vinegar.
Southern Highlands / South Coast/ Tumbarumba
Hunter Valley
Fires in the Broke/ Fordwich area are causing smoke in the Hunter Valley. For many wineries harvest has already commenced, others are carefully monitoring the situation.
SOUTH AUSTRALIA:
Adelaide Hills
 Reportedly more than 60 vineyards and wineries have been impacted in the Adelaide Hills. It's estimated that up to a third of the vineyards were damaged in the Cudlee Creek Fires. Many wineries lost everything, many had vineyards impacted.
Kangaroo Island
Our hearts go out to Southern Ocean Lodge who will be closed due to the devastating fires. We know that you'll rebuild and once again be one of the best tourism destinations in Australia!
We know there will be many others impacted, so we'll keep this list up to date when we learn of others who need some loving! Know someone who needs a shout out – please let us know.
2. Visit the impacted regions
This is a key time for tourism when there are normally bustling cellar doors and a large percentage of annual revenue taken that helps with cashflow before another year of winemaking costs are incurred. There is also the issue of smoke taint, which will affect a number of growers' fruit, making the 2020 vintage difficult for a much larger number of businesses.
Tourism will be a key part of the recovery effort to get people back on their feet, so check when it's safe to return and book a trip. Wine Australia noted
'Australia is a very large country with wine regions spread across it from the eastern seaboard right across to the west. Most fires have been in heavily forested areas or National Parks. While the toll on individuals cannot be underestimated and should not be downplayed, a review of fire maps suggests a maximum of around 1500 hectares of vineyards fall within the fire affected regions to date. Even if all those vineyards were fire damaged – and they are not – it would only be about 1 per cent of Australia's total vineyard area.'
So stock up #withemptyeskies, get involved in initiatives like #cookforthebush and support whatever way you can.
Not sure what regions are impacted? Tourism Australia has released Travel information  to help tourists with the most up to date information. Many regions are welcoming visitors and are safe to return so start planning a trip.
How the Mastermind team is helping
We know that assistance will be required well beyond the immediate emergency that's taking place. We've donated to local charities, and are helping volunteer where we can. But there's more that we can do.
Before the amazing Turia Pitt and her friend Grace McBride launched her @spendwiththem campaign we'd been working on the concept of @morethanagooddrop. It's a way of continuing to shine a light on some of the stories of the many producers we're hearing about that need help in the food and wine space.
Introducing More than a Good Drop
Each Friday we'll use our social media channels to draw attention to some of the real people who need to be in the spotlight. Many of these brands will typically be smaller players and family owned businesses, with less resources than the big guys. Follow them, buy from them and be inspired by their stories. It's these little battlers who we want to show some love.
If you know of a wine, food or beverage brand that has been directly impacted and needs some marketing help, we'd love to assist and help get them back on their feet. Please tell them to reach out and we will assist where we can.
Help us increase awareness by following @morethanagooddrop on Instagram and facebook, sharing this blog post with your network and encouraging your family and friends to follow along the journeys of these amazing people and their families.